Dissertation Proofreading Services
After you have written your academic paper, such as an essay or thesis, it can be quite easy to conclude that it is free of any error. This could be because you are already exhausted because of the energy it took to write the paper, and you might not feel motivated to read through it again. Most students know the importance of proofreading, and that is why you should consider using our dissertation proofreading services to add the final layer of certainty to your paper.
Why You Should Choose Our Dissertation Proofreading Services
It is normal to feel nervous about submitting your thesis because you're concerned about whether or not it is of a high standard. Proofreading is the final step before the paper goes in for submission, so it is ideal not to overlook its importance.
Effective proofreading is highly imperative to produce high-quality papers, and that is exactly what we offer. When done accurately, proofreading can single-handedly differentiate between writing something that communicates properly and a big misunderstanding.
No one person can create a perfect text without reviewing, reflecting, revising, or entrusting the workload to someone.
While you might feel you could proofread your paper by yourself, you could end up missing a bunch of mistakes. This is why you should utilize our dissertation proofreading services, as we have experts that are experienced and have done a lot of proofreading.
These professionals will check your dissertation for problems related to mechanics, usage, and grammar. When it comes to grammar, they eliminate non-parallel structures and wrong subordination while fixing sentence fragments.
Our proofreaders will also check for errors in subject/verb and pronoun/antecedent arguments and correct them accordingly. When the entire process is done, you can rest assured that you will have a thesis that is of the best quality.
​​How We Choose Our Dissertation Proofreaders
There are a couple of reasons why our dissertation proofreading services are so popular with students. The biggest reason of them all is the quality of work our proofreaders provide. We are very careful about who we employ and assign to work on your paper.
Let us tell you a few things about our dissertation proofreaders. These are hard-working, highly experienced editors that have proofread many papers similar to yours. They hold a high-level university degree – either Master's or PhD and have English as their native language.
Their impeccable work is based on high attention to details and a very detailed proofreading process. Before we submit your paper back to you and can say: "it is now proofread", we make sure to use various methods for finding errors.
We don't just rely on software to detect mistakes. Our writers will go through your dissertation, no matter how long it is, several times and in different ways to make sure that it is without mistakes. We'll read it aloud, read it backwards, and use a variety of tricks to detect every little mistake.
Because of these proofreaders, we are able to provide the most successful, most trusted dissertation proofreading services online.
Discounts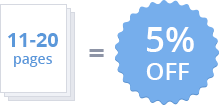 Bronze membership
You will save 5% if you order more than 10 pages of writing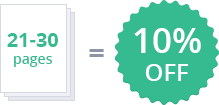 Silver membership
You will pay 10% less if the total number of ordered pages exceeds 20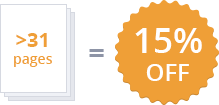 Golden membership
This is a life-time 15% discount for all your future orders after 30 pages
Why You Should Rely on Us for Your Dissertation
This is a very important paper in your academic journey. As such, you cannot afford to submit something with mistakes. Errors in an academic paper will instantly show in the eyes of the reader. This can ruin your credibility and destroy all that effort you put into creating your dissertation.
It would be a shame if you lose points on this assignment because of poor proofreading. Since the author of a paper is the worst person to check and edit it, what you need is a second pair of eyes to find and remove all mistakes.
What you need are the best dissertation proofreaders, which you can find in our service.
Some of the other reasons to choose us are:
Our non-stop support that you can reach out to at any moment
Our amazing prices that make this a great bargain for you
Our big list of services that gives you access to all sorts of academic help
Are you ready to get that dissertation in a perfect condition? Just order this help from us!
FAQ
Open all tabs
How long does it take to get my dissertation proofread?
UProofreading your dissertation is a task that can be completed in less than a day. We have expert proofreaders on our team who can handle your dissertation regardless of how bulky or badly written it is. Yes, we can proofread your dissertation even if you don't order from us.
What will the finished document look like?
A proofread document should be void of grammar and syntax errors, and that's what our dissertation proofreading service delivers. We have experienced editors who have no doubt worked on projects similar to yours, and you'd be surprised at how they can transform a badly written dissertation. A perfect dissertation is one that has zero errors in relation to sentence structure and usage, and that's what we are offering.
How do you make changes?
Our proofreaders make changes by manually reading through your dissertation to check for pronoun arguments and correct them if need be. They look out for errors related to grammar and usage, then eliminate the wrong subordination and fix broken sentences. Our dissertation proofreading UK editors have high attention to detail, so no mistake goes past them undetected.